Language School Verbum Novum in Mainz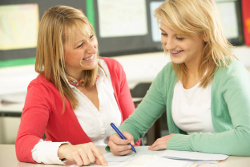 German Intensive Course + Conversation
The German Intensive Course + Conversation with 25 lessons per week is scheduled for those, who would like to learn the German Language more intensively. But of course, the students have also enough time for sightseeing and free activities. The intensive course + conversation contains as a intensive course with 20 lessons the training of such skills as speaking, writing, reading and listening comprehension. The extra lessons give the students the opportunity to express their opinion on the different topics as politics, economics, culture and traditions.
As a rule the German course can be started every Monday and is offered for the levels from A1 to C1.
The school is closed from Dec. 20, 2021 to Jan. 02, 2022. There are no classes in this period. The office is opened.
Intensive Course Timetable
Monday – Friday
09:00 AM – 10:30 AM
Break: 10:30 AM – 10:45 AM
10:45 AM – 12:15 PM
Break: 12:15PM – 12:30 PM
Continuation Conversation: 12:30 PM – 01:15 PM