Language School Verbum Novum in Mainz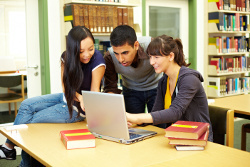 German Evening Course in mini-group
For employers, au-pairs and for all, who do not have time to attend the intensive or standard German courses in the morning or afternoon, we offer also evening courses with 4 lessons per week, 2 lessons per evening.
The German Courses in the evening contains as a standard and intensive course the training of such skills as speaking, writing, reading and listening comprehension.
As a rule the German evening course can be started every Monday and is offered for the levels from A0 to C2.
Evening Course Timetable:
Monday, Wednesday
06:00PM – 07:30PM